Colonel Riley Workman murder: Cell confession key to case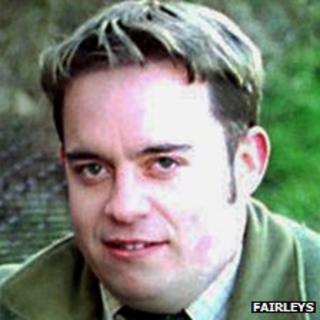 There was no clear motive, and the prosecution's case rested on evidence from prisoners following custody confessions.
But, nearly nine years after the doorstep shooting of Lt Col Robert "Riley" Workman, Christopher Docherty-Puncheon has been convicted of his murder.
The former gamekeeper had admitted to nothing, maintaining that his former cell mate's evidence was like something out of the ITV drama Midsomer Murders.
The testimonies included that it was a money-earning "hit job", that Lt Col Workman had threatened to expose the defendant's criminal activity and that he had had an affair with his victim, who was known as "the colonel".
However, after eight years and nine months, Docherty-Puncheon has been found guilty, a verdict that is testament to the work of the Crown Prosecution Service and the Thames and Chiltern Complex Case Crime Unit.
'Modern day hitman'
It was Lt Col Workman's carer who found him dead on the doorstep of his home in Furneux Pelham, Hertfordshire in January 2004.
At first, it was thought the 83-year-old widower died from natural causes as there were no visible injuries, but when undertakers moved him, it was discovered he had been shot in the chest.
Docherty-Puncheon was arrested as early as the next day, but there was insufficient evidence to charge him.
It took until 2010, and his murder of another man, for a case against him to be built.
During his five week trial, a number of alternative motives were put forward but Luke Bulpitt from the Crown Prosecution Service said it was "not uncommon" for someone to be tried for murder even when a motive was unclear.
"We don't need to prove a motive to establish a murder," he said.
"What is necessary is that we prove an intention on the part of the defendant to either kill or seriously injure and in this case that was never in doubt, bearing in mind the colonel was shot with a sawn-off shot gun from a very close distance."
In the end, Docherty-Puncheon, was convicted on the evidence of other prisoners.
He first admitted to the murder after being arrested and held on remand, in Bedford Prison at the end of 2004, in connection with the disappearance of traveller Fred Moss.
The jury heard the defendant made a series of confessions to a cellmate in which he described himself as a "modern day hit man who had killed people for money".
However, despite the fact Docherty-Puncheon was later sentenced to 30 years in jail for the murder of Mr Moss, he was not charged with the colonel's murder because the confession was not supported by independent evidence.
It was only when he had been transferred to a second prison, in December 2007, where he repeated his confession about killing "the colonel", which led to a review of the investigation.
It would take almost another three years for Docherty-Puncheon to be charged with the second murder.
The head of the Complex Crime Unit, Adrian Roberts, said the case was brought to court after it was satisfied there was a "reasonable prospect of conviction".
He said custody confessions were "not a common occurrence", but happened occasionally.
Mr Roberts said: "It just means that we take extra care in those types of cases.
He explained that prison could make someone confess because it is "a very lonely place".
"Someone who has committed an offence of this type must have this on their mind a great deal of the time," he said.
"There must be a compulsion to talk about it to someone and there are very few people that they can talk to other than prisoners."
Inmates would not tell staff because they are likely to tell the authorities, so "the only outlet for the turmoil that must exist in their own mind" is other prisoners, Mr Roberts said.
"They rely on [them], because of their criminal backgrounds, not to reveal that information to someone else," he said.
"But of course, as in this case, they have come unstuck."
'Corroborating evidence'
Mr Roberts said that to bring such a case to court, evidence to support the prisoner's account was needed.
"The police worked very hard in this case to test the accounts that were given by the prisoners who gave evidence, to ensure that the information they possessed could only have come from the person who committed this killing," he said.
During closing speeches at the trial, Judge Mr Justice Saunders told the jury it was possible prisoners could get reduced sentences or financial rewards for giving evidence to police.
This prompted him to urge the jury to use "considerable caution" in considering the confessions in this case.
However, Mr Bulpitt said the jury was also directed to particularly look at the other evidence that supported the inmate testimonies.
"That corroboration was such that the jury was sure these prisoners were giving evidence that could only have come from the killer," he said.
"It has been a lot of hard work for a lot of people but a very satisfying result to see someone brought to justice for such a horrific crime."