Arrested PCC candidate Kevin Carroll denies any crime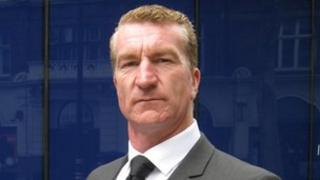 A police and crime commissioner candidate for Bedfordshire, arrested just over a week ago, has denied committing any offence.
British Freedom Party candidate Kevin Carroll was arrested after about 50 English Defence League (EDL) supporters were stopped by police on 20 October.
Police said officers arrested 53 men on suspicion of conspiracy to cause public nuisance in London.
Mr Carroll told the BBC he was issuing a "100% denial" of any offence.
"I can't say too much but it is absolutely preposterous," he said.
'Arrested later'
Last week a British Freedom Party spokesman said: "Following Saturday's events, we learn directly from Kevin Carroll that he has been bailed until 30 November, which means that his election campaign for Bedfordshire Police and Crime Commissioner (PCC) is unaffected.
"We can confirm that Kevin was not among EDL supporters stopped by police... but was arrested later whilst driving to his home."
The Metropolitan Police said the the men were held on the M25 motorway near Heathrow Airport and Uxbridge and on the M3 near Bagshot, Surrey.
The men were heading to a location in east London, but police have not revealed where they were due to gather.
All 53 were arrested on suspicion of conspiracy to cause public nuisance, the Metropolitan Police said.
They have been bailed until a later date pending further inquiries.
A Met spokesman said: "This was part of an intelligence-led investigation into a planned disturbance in east London on that day [Saturday]".
One of the bail conditions imposed on the men bans them from entering east London to demonstrate for a stipulated period of time, police said.