Idi Atiba shooting death 'might have been an accident'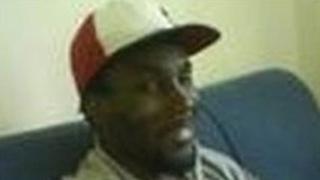 A man might have accidentally shot himself in a Bedfordshire park after police attempts to get him to surrender failed, an inquest jury has heard.
Idi Atiba, 31, died on Leagrave Common, Luton, on 24 January last year after a 16-hour stand-off with police.
Mr Atiba, of Wolfsburg Court, in Luton, died soon after despite efforts to save him, the inquest in Dunstable was told.
The inquest heard evidence from a paramedic suggesting Mr Atiba might not have intended to shoot himself.
'Gone off'
In a statement read at the start of the five-day inquest, paramedic Gavin Turner said as he attended the fatally injured man, police officers were saying he had not intended to shoot himself and the gun had "gone off" when he moved.
Mr Atiba, who shot himself in the chest, was pronounced dead at the scene despite efforts made to save him, the inquest heard.
His brother, Gregory O'Garrow, told the inquest that the day before his death Mr Atiba had called Mr O'Garrow's partner's mobile.
"He said he was going to kill himself and said she should call the police," Mr O'Garrow said.
"He told her to look after everyone."
Bedfordshire Coroner David Morris told the inquest jury of eight men and three women they would have to decide if the police action was reasonable during the stand-off.
Full view
Also, they would have to decide if Mr Atiba, who worked as a car valeter, shot himself accidentally or deliberately.
His death was in full view of people living in flats and was captured on camera by the BBC and police photographers.
One of the armed officers surrounding Mr Atiba also fired a plastic baton round shortly afterwards, but that did not hit him, a pathologist said.
The father-of-two was surrounded by armed police on Leagrave Common after reports he had a gun.
Officers feared he was on his way to harm Tanesha Jones, the mother of his second child.
The inquest continues.