Irn Bru plant in Milton Keynes 'ready by summer'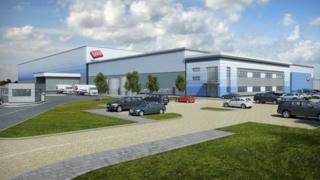 A soft drinks company said its new £40m canning plant in Milton Keynes is on course to open next summer.
AG Barr, which makes Irn-Bru and Tizer, is building a production plant at Magna Park which will employ 100 people.
The building company Gazeley said construction would be completed in February and then it would be fitted out by Barr for production.
Barr said it would have a capacity for producing 400 million cans and 200 million bottles a year.
Andrew Memmott, operations director at Barr, said: "The investment we are making in Magna Park is a sign of our confidence in our future development plans and our commitment to the Milton Keynes area."
Barr said it already employed 900 people at 11 sites in the UK, but the new plant in Milton Keynes would double its canning production capacity.