Hospital should 'draw line' under past Savile links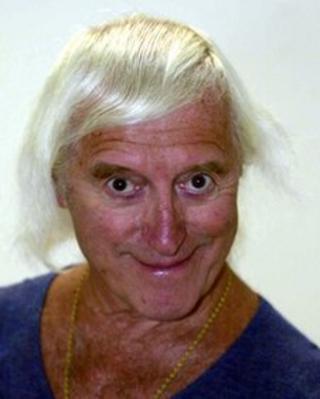 Stoke Mandeville Hospital should "draw a line" under its past links with Jimmy Savile, the daughter of a pioneering neurosurgeon has said.
Eva Loeffler, who lives near Aldeburgh, Suffolk, said the Savile scandal had "tarnished everything".
Her father, Paralympic Games founder Sir Ludwig Guttmann, set up its spinal injuries unit in World War II.
Savile, a former porter at the Buckinghamshire hospital, began his charity work there in 1972.
Sir Ludwig, who had fled Nazi Germany, started the Stoke Mandeville Games in 1948 to coincide with the 1948 London Olympics.
'Very sad'
The games were the forerunner for the Paralympic Games.
Ms Loeffler, mayor of the London 2012 Paralympic Village, told BBC Inside Out East her father would have been "sad" at the way the Aylesbury hospital had been affected by the Savile scandal.
The Jimmy Savile Stoke Mandeville Hospital Trust charity has closed and hospital cafe "Jimmy's" is being renamed.
"I think [my father] would have been very sad," Ms Loeffler told BBC Inside Out East.
"I think it's an awful thing to happen and it really has tarnished everything, but it really has nothing to do with the wonderful work going on at the National Spinal Injuries Centre at Stoke Mandeville.
"That is the important thing - that they are helping people who have been paralysed recently and are doing the most wonderful work there, I do think that's what matters. The past is in the past and we must draw a line under it."
Ms Loeffler said her father, who was knighted in 1966 and who died in 1980, started the spinal injuries centre in 1943.
It was expected there would be a lot of military paraplegics after the 1944 landings in Normandy.
'Vulnerable people'
She said she wanted to believe that Savile's reasons for getting involved with the hospital were "genuine".
"There is the possibility that he was setting up these funds in places where there were vulnerable people, that is obviously a possibility," Ms Loeffler told BBC Inside Out East.
"What I like to think is that his reason for supporting Stoke Mandeville was actually genuine, bearing in mind that he himself... was working in the mines before he became anything.
"He was in an accident [when] the roof collapsed, and damaged his spine, and he was paralysed for a while and made a full recovery."
Buckinghamshire Healthcare NHS Trust has said it was shocked and saddened to hear of the "very serious allegations" against Savile.
Savile died in October 2011 aged 84.
Police are investigating allegations TV star Savile sexually abused some 300 young people over a 40-year period.
As part of the police inquiry, ex-pop star Gary Glitter has been arrested and bailed on suspicion of sex offences.
Inside Out East is on BBC One from 19:30 GMT on Monday and available for seven days on the iPlayer.