Hemel Hempstead payroll manager jailed for 21 months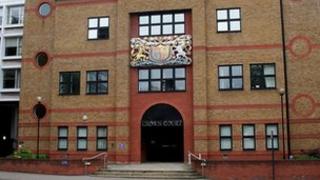 A payroll manager from Bedfordshire who stole more than £90,000 from her company has been jailed for 21 months.
Michele Griffiths, 41, of Himley Green, Linslade, used fictictious staff names to pay money into her account from her employers in Hemel Hempstead.
Griffiths pleaded guilty to six charges of false accounting and one of transferring criminal property.
Judge Stephen Warner, sentencing at St Albans Crown Court, said the crime was a "serious breach of trust".
The court heard Griffiths' actions were uncovered by the firm's finance director Adam Maloney, who called police on 28 May.
She gave £500 to her mother and £1,800 to friends who joined her and husband Jason on holiday in Torquay.
When questioned, she said she was £20,000 in debt, had a big mortgage and had "tried to keep people happy".
Prosecutor Philip Misner said Griffiths "acted in a gross breach of trust" between October 2007 and May this year when she worked as human resources payroll manager at the speech recognition company Eckoh.
'Dishonest streak'
Griffiths joined the company in 2005, becoming the manager the following year.
She had been dismissed from her previous job for altering her salary details between 19 December 2003 and 26 March 2004. As a result, she received a police caution after admitting theft of around £1,000.
The total taken by Griffiths was £78,963. The company also lost £12,827 in tax and National Insurance paid for the fictitious workers.
Andrew Morton, mitigating, told the court Griffiths' family budget was stretched by a large mortgage.
The money had not been used for an extravagant lifestyle and she wanted to repay it.
Jailing Griffiths, Judge Stephen Warner told her: "This was a serious breach of trust. You used your position and knowledge to divert money to fictitious employees. It only stopped when it was discovered by chance.
"It is clear from your background there is a dishonest streak in you, but I accept the money you diverted was not spent on high living. There is little prospect of it being repaid in the future.
"This case is a tragedy for everyone concerned, including your family."