Lt Col Riley Workman murder: Carer's years of 'nightmare'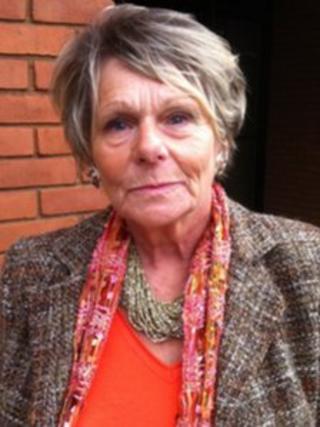 The carer who Lt Col Robert "Riley" Workman called his "semi-detached daughter" has spoken of her "nightmare" eight years since his murder.
Josette Swanson, 66, discovered the 83-year-old retired army officer dead on the doorstep of his home in Furneaux Pelham, Hertfordshire, in January 2004.
After facing the initial shock of discovering how the widower died, she then had the long wait for the killer to be brought to justice.
She last saw Lt Col Workman the night before he was killed and believes the murderer may have seen her leave the house.
"It is a long time to live with not knowing [who did it] and being frightened in case something else happened," she said.
"I felt like the person who did it knew me because of the timings. It's all been a nightmare."
'Danced in shock'
Mrs Swanson provided care for Lt Col Workman's paraplegic wife when she was alive.
He kept her employed at the home after his wife's death and she became a friend of the family.
Mrs Swanson initially thought he had suffered a heart attack when she found him at home on 8 January 2004.
"I just saw his foot and leg on the doorstep, I ran and could see he had been dead for hours," she said.
"It was unbelievable, there was no sign of blood or anything. I can't remember exactly what I did, I sort of danced around in shock really.
"I couldn't think why he was on the doorstep. It was so out of character for him to be there in his night attire, it was a certain thing that he was very dignified over."
It was only later that day that she was told he had been murdered, shot at close range.
"I couldn't believe it," she said. "I felt faint and very sick. I was numb."
Lt Col Workman, she revealed, was "the perfect gentleman in every way", and someone she remembers as a "typical army man" and "very well educated".
"He was lovely, everybody would tell you the same and he treated his wife like a queen and didn't want her put into care.
"I thought: 'Who could have hurt him?'" she added.
'Clear conscience'
During the trial of Christopher Docherty-Puncheon, 33, the defence counsel implied Mrs Swanson could have been involved in the murder.
It was revealed that Lt Col Workman had given her money, bought her a mobile phone and changed his will to suit her.
"It's often the carers who are accused of these incidents, of stealing or whatever, but I have a completely clear conscience," she said.
"As regards his will, I had no idea until the police [told me].
"Whatever Riley did for me he wrote down, everything was above board, he was of perfectly sound mind in everything he did, he called me his semi-detached daughter.
"Records were made of everything, it was all itemised. Being a carer I covered my back with everything and thank God I did.
"Riley was a very, very private man, I didn't know anything about his private life, I just cared for him."
She gave evidence at the trial in St Albans Crown Court and said: "It was very, very vindictive but I felt the defence were only doing their job and I thought the judge was very, very compassionate towards me."
Mrs Swanson said the strain of the years between the murder and the trial has had a profound affect on her health.
"That horrible January morning has been hanging over me for nearly nine years and your head just goes. It made me ill and my health has really suffered," she said.
"It's been very, very traumatic, it's been such a long time, but I remember it like it was yesterday."
Docherty-Puncheon denied shooting Lt Col Workman but was convicted by a majority verdict after a five-week trial on 5 November.
Mrs Swanson, who no longer lives in the village, said that even though the court case had now ended, she did not know if her personal ordeal was over.
"I just take it one day at a time, as I have for nearly nine years," she said.