Fishermead shooting: Victim sold drugs for 'quick profit'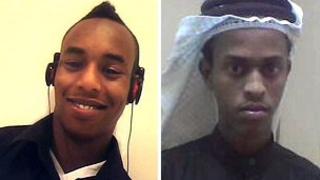 A teenager who was shot dead in Milton Keynes was out to make a "quick profit" from selling drugs, a court has heard.
Mohammed Abdi Farah, 19, and Amin Ahmed Ismail, 18, were killed on the Fishermead Estate in May last year.
Mr Farah's cousin told Luton Crown Court that Mr Farah had 13 bags of cannabis on him the day he was killed.
Fuad Awale, 25, of no fixed address; Sharmake Abdulkadir, 22, of Milton Keynes; and Yahya Harun, 22, of Milton Keynes, all deny murder.
A witness said Mohammed Farah, known as Mo, had stayed at his house the night before the shootings and that he had cannabis on him he was going to sell for a "quick profit".
"Mo had weed on him - cannabis," he said. "He brought it out. It was stinking out the room.
"He said he was going to sell it for a quick profit. He lectured me about not taking that pathway. He said 'don't do what I am doing'."
'Drug turf'
The jury have heard Mr Farah and Mr Ismail were shot in an alleyway at about 22:00 BST on 26 May, in what the prosecution said was a dispute over "drug turf".
Prosecutor Ben Gumpert said it was likely that the three defendants knew the victims and were part of a group of five, two of whom were not before the court.
Earlier, an anonymous witness, speaking from another building, said he had seen a group of "about five" people arguing with another two people.
He heard a loud noise and when he looked back he saw "the two guys falling down", he said.
The trial continues.