New Barnfield incinerator approved by county council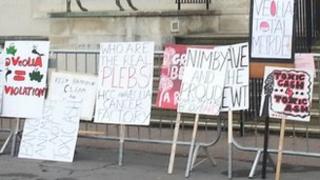 Plans for a waste incinerator in Hertfordshire have received county council backing, despite opposition from Tory party chairman Grant Shapps.
He described Wednesday's approval as "fundamentally the wrong decision" based on "flawed mathematics".
Members voted 11 to four in favour of the energy-from-waste plant at New Barnfield near Hatfield.
The county council (HCC) said it had to find ways of limiting the amount of waste it sends to landfill.
Protesters are concerned the Veolia-run plant will lead to increased pollution and have vowed to fight on.
Mr Shapps, the Welwyn Hatfield MP and chair of the New Barnfield Trust, said he had written to Secretary of State Eric Pickles urging him to "call in" the decision to be re-examined by government inspectors.
'Under pressure'
Plans for an incinerator were put forward by the county council in 2008 as much of Hertfordshire's waste was being landfilled.
In 2010, 284,000 tonnes of waste were exported.
HCC said it had to reduce both costs and environmental impact and the new facility is set to process about 380,000 tonnes of waste every year and save taxpayers millions in landfill tax.
Chair of the Development Control Committee Bryan Hammond said those who voted in favour at Wednesday's all-day planning meeting were "mindful of the need for the county to manage its own waste".
"We have been exporting waste to Bedford, to Cambridge, to north London and parts of Berkshire for so long that quite correctly we are under pressure to organise it ourselves within the county," he said.
However, local opposition has been intense and all three political parties at Welwyn Hatfield Council joined forces to condemn the plans, pledging £20,000 to oppose the county council.
'Beggars belief'
Opponents have cited the existence of a special needs school next to the site, potential noise and air pollution, the increase in lorry movements it would bring and a lack of infrastructure.
Mr Shapps said: "Recycling rates in Welwyn Hatfield have already exceeded the rates they thought they would be in about 2020 and that is going to be replicated across Hertfordshire.
"This isn't the end of the road, I have already written to the secretary of state asking him to "call in" this decision and look at it again.
"Even after that, the New Barnfield Trust has raised £60,000 to fight this at judicial review because we think that the process itself has been faulty."
Paul Zukowski, from the Hatfield Against Incineration campaign group, said "the fight goes on".
"I cannot understand the insistence of Hertfordshire County Council in pushing this forward in the face of concerted opposition from virtually every corner - it beggars belief," he said.
"The idea that this had local representation and they were listening to the people has been demonstrated as being utterly rubbish."