Accused denies affair with Colonel Riley Workman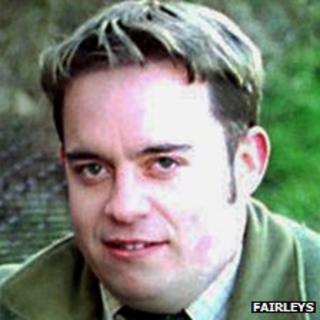 A man accused of murder has said rumours he was having an affair with an 83-year-old retired army officer were straight out of "Midsomer Murders".
Christopher Docherty-Puncheon, 33, from Stocking Pelham, Hertfordshire, denies murdering Lt Col Robert "Riley" Workman at his cottage in Furneux Pelham.
He told St Albans Crown Court that rumours he had a sexual relationship with the colonel were "ridiculous".
Col Workman was found dead on his doorstep on 8 January, 2004.
The prosecution said he was killed by a single shotgun blast at about 20:15 GMT the night before.
Confession denied
Mr Docherty-Puncheon, who was 24 at the time and known as Christopher Nudds, said his pest control work and his private life had suffered as a result of local gossip.
He was arrested by police soon after the killing, but released without charge.
Press were camped outside his home looking for stories and local people would joke about his alleged relationship with Col Workman in pubs, Mr Docherty-Puncheon said.
"It was like Midsomer Murders," he said. "Because they knew I had been arrested, they used to make stupid jokes like he must be your sugar daddy.
"I think it came about by people suggesting I'd had a sexual relationship with him and disgusting things like that."
Mr Docherty-Puncheon also denied claims that he had confessed to Col Workman's murder.
The prosecution had said he had made the admission to cell mates while being held on remand in connection with the disappearance of Fred Moss, who he was later convicted of killing.
Mr Docherty-Puncheon told the court the cell mates had been lying and they had told "ridiculous stories".
The trial continues.