Stoke Park wedding planner disciplined for email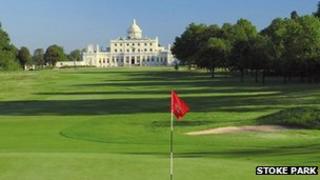 A wedding planner at a luxury hotel has been disciplined for describing a couple as not the "type of people that we would want" to get married there.
Pauline Bailey and fiance Paul Carty had wanted to hold their wedding at Stoke Park, Buckinghamshire.
But Miss Bailey said she had felt "crushed" after an email from wedding planner Michele Connelly was sent to her by mistake.
The hotel said it had apologised and Ms Connelly had been disciplined.
The email was sent after Miss Bailey and Mr Carty, from Luton, visited the five-star hotel at Stoke Poges, which has featured in the James Bond films Goldfinger and Tomorrow Never Dies.
After meeting them, Ms Connelly sent an email to her manager Carlo Zoccali but also copied in Miss Bailey.
'Michele seemed lovely'
"I know this probably doesn't sound very nice, but I am trying to put this wedding off as I don't think they are the type of people that we would want to have at Stoke Park," she wrote.
Miss Bailey, speaking on ITV Daybreak, said the email had left the couple shocked.
"It was devastating. At the time it was pretty crushing, really. I am actually over it now," she said.
"Most brides want a fantastic wedding, the perfect wedding venue and we had gone to around 15 wedding venues.
"We finally went to Stoke Park and we went, 'Yep, this is the venue'. We went to see it, had a 10-minute meeting with Michele herself and she seemed lovely at the time.
"I was quite excited about it and went round and told all the relatives, 'This is where we are getting married. Look how beautiful it is.'
Eyebrow piercing
"Ten days later we had heard nothing and I decided to give her a call because I knew something was going on.
"She got back to me and said, 'I do apologise, I have been taking some holiday leave. I will get back to you and confirm some provisional bookings.'
"The morning after, that was when I received the email."
Miss Bailey, 27, a drug and alcohol counsellor, said she thought the only reason for the negative comment might have been Mr Carty's eyebrow piercing and two small earrings.
Mr Carty, 51, an engineer for the Ministry of Defence, said he did not know why they had been described in this way. "I do not class a few piercings as being too much."
A spokesman for the hotel said the email had been sent in April.
"This is a very unfortunate matter for which we apologised profusely to Pauline and Paul within 24 hours of this email being sent," he said.
'Inclusive of everyone'
"The opinions expressed were in no way a reflection of the opinions of Stoke Park.
"We are an extremely welcoming and friendly hotel and we are inclusive of everyone. Everyone is welcome."
The couple have decided to hold their wedding next June at another venue, in spite of Stoke Park's apology and invitation for them to consider holding their wedding there.
Bristol-based law firm Cook & Co said it had been pursuing a discrimination claim on behalf of the couple which was now on hold.
Head of litigation Christopher Scroggs said: "The couple were extremely distressed from the email they received and Stoke Park did not acknowledge that they had discriminated against the couple, even though they had sent the email to them in error.
"The response they received from the hotel was extremely unsatisfactory which is why the couple were left with no alternative but to approach the press."