Colonel Riley Workman: Accused 'at home' on night of murder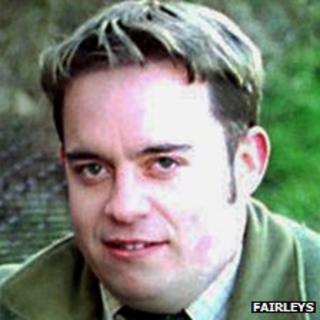 A man accused of shooting dead a retired army officer on his doorstep says he was at home the night Lt Col Robert "Riley" Workman was killed.
Christopher Docherty-Puncheon, 33, from Stocking Pelham, Herts, is accused of murdering Col Workman, 83, in 2004.
He rejected claims that he had had an affair with Col Workman and told St Albans Crown Court that he had never been in his Furneux Pelham cottage.
Asked whether he had shot Col Workman, Mr Docherty-Puncheon replied "no".
Col Workman was found dead on his doorstep on 8 January, 2004. The prosecution said he was killed by a single shotgun blast, at about 20:15 GMT the night before.
Mr Docherty-Puncheon was 24 at the time and known as Christopher Nudds.
Shotgun licence
He said he had been working in the area as a pest controller and had carried out work on the outside of Col Workman's home to remove wasp nests.
In the witness box, Mr Docherty-Puncheon said his father had been a game keeper and he was brought up around shotguns.
He said he got a full length shotgun when he became a pest controller and had held a shotgun certificate since he was 13.
At the start of the trial, Mr Docherty-Puncheon's uncle, Peter Ward, told the jury he had seen a sawn off shotgun hidden under the seat of his nephew's Subaru some time before the shooting of Col Workman.
But Mr Docherty-Puncheon told the court the vehicle did not have the type of seats described by his uncle and said he had been "completely mistaken".
On the day of the shooting, Mr Docherty-Puncheon said he had gone to Heathrow airport to collect a couple returning from their honeymoon in South Africa.
He said he had driven them to Norfolk before driving back home to Stocking Pelham - which is near Furneux Pelham.
'Distinctive number plate'
Later that afternoon he said he had walked his dogs on a farm at Great Hormead before returning home around 18:00 GMT.
Mr Docherty-Puncheon said he had remained at home for the rest of the night and had not left until the following morning.
The jury have been told how a car bearing the distinctive number plate of Mr Docherty-Puncheon's Range Rover vehicle was spotted on the night not long after the shooting.
Landscape gardener Gary Chambers told the court how, shortly after the killing, he was in his car and not far from Col Workman's house when he saw a Range Rover vehicle and noticed part of the number plate spelt "Soho".
At the time, Mr Docherty-Puncheon drove a Range Rover with the number plate N50H0.
Barrister James Wood QC, defending, asked Mr Docherty-Puncheon: "Did you drive past him coming back from Furneux Pelham?"
Mr Docherty-Puncheon replied: "The night he mentions I couldn't have done because I was at home."
The trial continues.