Oxley Park Academy wins team prize at teaching awards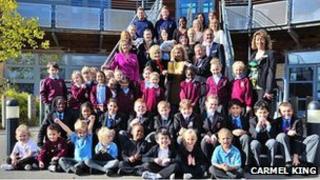 A Milton Keynes school has won a top prize at the annual teaching awards for having the "wow factor".
The 85 staff and governors at Oxley Park Academy were named Outstanding Team of the Year at the Pearson Teaching Awards ceremony in London on Sunday.
Academy principal Cathy Higgins said they were "thrilled and honoured".
The two parents who nominated the school said their teamwork was "a breath of inspirational air".
Oxley Park primary school opened with 100 pupils in 2005 at the heart of a new housing development of the same name.
Since then, it has grown to cater for more than 500 youngsters and became an academy in July 2011.
'Team Oxley'
The school motto is "Dream, believe, achieve - together" and Ms Higgins said the school strongly believed in the African proverb that it "takes a whole village to educate a child".
"We work in partnership with parents, families and the community to enhance our children's education," she said.
"The children know the part they have to play too - they behave, listen and learn well."
She added that "Team Oxley" recognised that every member has a different - but equally important - part to play.
"Team Oxley works selflessly to enrich and maximise the opportunities for our team, resulting in happy, aspirational, determined and confident children who achieve great things and know that they can be everything they want to be," she said.
In its report, the judges said that creating a community and a sense of belonging continue to be at the heart of the school and its achievements.
"From its beginnings it would not stop at the school gates but would permeate the whole community," they said.
'Curriculum enrichment'
Shops and businesses are invited to get involved and as a result the local Chinese restaurant celebrates Chinese New Year with pupils and a vets' practice hosts work experience.
"This sums up the Oxley Park Academy team in their role and responsibility for developing the whole child," said the judging team.
On Wednesdays the school has "curriculum enrichment afternoons", with some activities paid for by parents.
Children are offered activities such as horse-riding, ceramics, debating and canoeing, while the staff are involved in professional development.
The judges believe a "knock-on effect" has been improved academic standards and this summer 90% of the school's 11-year-olds achieved at least a level 4 - the standard expected of the age group - in English and maths.
"The wow factor is something we often hear about yet rarely experience," they said.
"But we did, from the moment we stepped inside the building to the moment we left."
The Pearson Teaching Awards were founded by Lord Puttnam CBE in 1998 and more than 20,000 nominations were received this year.