Bedfordshire A5-M1 road to start once funds finalised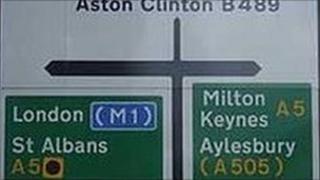 The Department for Transport has given the go-ahead for the A5-M1 link road in Bedfordshire once funds are finalised.
The road to bypass Dunstable has already attracted funds of £5m from Central Bedfordshire Council and a pledge of £45m from local developers.
The department said after the public inquiry work could now begin on the detailed route, land purchase and raising funds to complete the project.
An inspector recommended building the bypass to relieve traffic stress.
The 2.9 mile (4.7 km) dual carriageway will run east from the A5 north of Dunstable to the M1 at a new junction.
The link aims to reduce journey times for long distance traffic currently travelling through Dunstable, and reduce traffic travelling to Junctions 11 and 12 from the local road network.
Construction could now start in 2014 instead of after 2015.