Mia Elcock inquest: Parents' hospital improvement doubt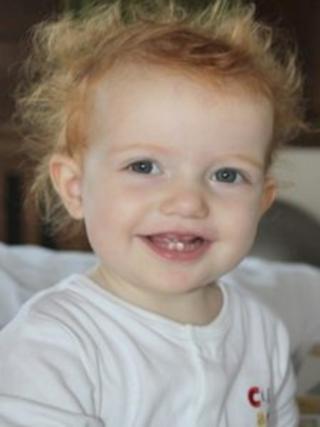 The parents of a young girl who died after a cardiac arrest at Milton Keynes Hospital have backed a coroner's decision to demand changes there.
Coroner Thomas Osborne said a "clear failure" led to the death of Mia Elcock, one, from Little Horwood, who had been diagnosed with pneumonia.
The hospital said changes had been made but parents Kirstin McIntosh and Simon Elcock said they were not enough.
They also said they feared any further improvements would not take place.
Mia had an "extremely rare" heart condition the hospital did not detect.
She died a day after being admitted to the hospital in October 2011.
Her parents said they were very pleased to hear the coroner's Rule 43 recommendation - which forces the hospital to review and amend its practices.
But they had serious misgivings about whether steps taken by the hospital would lead to improvements.
'Failure of leadership'
The parents said in a statement: "We appreciate the sincerity of the hospital's personal and public condolences about our loss of Mia.
"We strongly anticipate being asked to contribute to any recommendations from the perspective of parents of paediatric patients.
"However, despite our previous best efforts and requests to the hospital to be involved, we have found it to be an organisation unwilling to take the opportunity to engage and learn in a meaningful manner.
"This apparent indifference to improvement and systemic failure of leadership would not be tolerated in any private sector industry.
"We have strong misgivings that outcomes for seriously ill children will still not markedly improve.
"We know real change is difficult. There is an over-reliance on procedures and processes, which, while necessary, will never take away the importance of the human factor and the duty of care required within the medical and nursing professions.
"Simply put, we wish to prevent future unnecessary child (and adult) deaths occurring at Milton Keynes Hospital and elsewhere in the UK."
Medical director Martin Wetherill said: "Milton Keynes Hospital fully accepts the coroner's verdict. We remain committed to providing quality care to all patients.
"We will learn from Mia's unfortunate death and continue to make improvements where necessary to our paediatric and anaesthetic services."
Mark Millar, chief executive, added: "We will be writing to Mia's parents to invite them to come in and meet us to ensure that they are satisfied with the improvements we have made and continue to make to our children's services.
"I fully agree with Mia's parents' assertion that we must listen and learn."