St Mary's Church in Clophill to get £225,000 makeover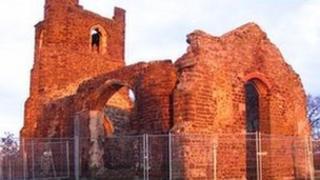 A Bedfordshire village church is set to have a £225,000 makeover which could once again see its ruins open to the public.
St Mary's Church in Clophill, of which only the tower and parts of the nave remain, is a scheduled ancient monument and Grade II listed building.
It is currently in disrepair and closed to the public.
The final £50,000 needed for the project was awarded by Waste Recycling Environmental Limited (WREN).
A further £75,000 grant from English Heritage and a £100,000 grant from Heritage at Risk will allow work to go ahead early in 2013.
Records suggest there were clergymen based at the church as early as 1100.
It was in regular use until 1840, when a new rector decided a new church - also called St Mary's - should be built nearer the village itself.
The church was bought by the former Bedfordshire County Council in 1977 but has had a troubled past including being the subject of vandalism and fly-tipping.