Mia Elcock inquest: Milton Keynes Hospital review ordered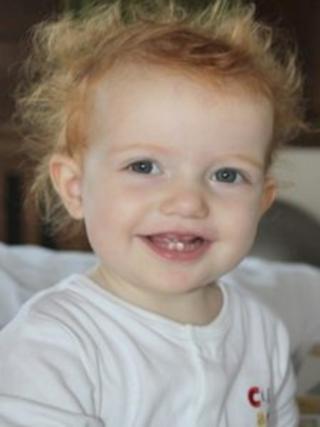 A coroner has ordered a review into how seriously ill children are cared for at a hospital after a toddler died from a growth on her heart that was not seen.
Mia Elcock, one, from Little Horwood, Bucks, died at Milton Keynes Hospital in October 2011 after only being diagnosed with pneumonia.
Milton Keynes coroner Thomas Osborne said in a narrative verdict there was a "clear failure" by medical staff.
The hospital said improvements had been made to paediatric services.
The four-day inquest at Milton Keynes Coroner's Court heard that Mia was admitted to the hospital's children's unit because A&E had been closed as a result of flooding.
A chest X-ray showed she had pneumonia, so she was given oxygen and saline but suffered a cardiac arrest and died at 03:29 BST on 24 October, the day after her admission.
A post-mortem examination found that Mia had an "extremely rare" heart condition, with a large "vegetation" being discovered on the organ.
'Exceptionally unusual'
Consultant radiologist Dr Prudence Evans had told the court that Mia's heart "looked normal", with another consultant paediatrician stating there was no indication the toddler had a heart problem.
Giving his verdict on Thursday, Mr Osborne said there was a "clear failure" on the part of the clinical staff to treat her accordingly.
Examples included protocol not being followed correctly on the evening, paperwork not being up to standard and no senior staff available to properly manage Mia's condition.
However, he also said he could not be satisfied, on the balance of probabilities, that a failure to intubate and ventilate her at an earlier stage, contributed to her death.
He also handed out a Rule 43 notice, meaning the hospital will be forced to look at practices at the unit and act on them.
Martin Wetherill, medical director at Milton Keynes Hospital, said he wanted to express "sincere condolences to the family of Mia Elcock" and said her death was "exceptionally unusual and no-one can know whether her life could have been saved".
He added: "We remain committed to providing quality care to all patients.
"We will learn from Mia's unfortunate death and continue to make improvements where necessary to our paediatric and anaesthetic services."
Mia's father Simon said: "Mia was such a beautiful red-headed little girl who brought indescribable joy and happiness into our lives. The pain of her loss is unimaginable and will always be with us."