New £20m Milton Keynes badminton headquarters planned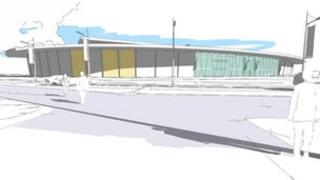 The National Badminton Centre is set to move to a £20m headquarters and training base at The National Bowl in Milton Keynes.
The sport's governing body, Badminton England, has announced plans to move from its existing facility in the Loughton area of the new town, to a complex of "at least twice the size".
Initial plans include a 16-court badminton hall, a 3,000-seater arena, a fitness club and athlete accommodation.
It is due to open in spring 2015.
Badminton England have been at their present base in Bradwell Road since 2000.
This will be sold for development, and along with "other capital investment sources", will help fund the project.
'Massive demand'
Chief executive Adrian Christy said the move was inspired by the "massive demand" for badminton courts and the desire to recreate tournament conditions in a training environment.
"As a minimum, the National Badminton Centre will double in size," he said.
"Demand for court time outstrips supply and we have to frequently turn clubs and casual players away because we simply don't have the space for them.
"The arena will also allow Milton Keynes to attract major national, European and international sporting events - not just badminton competitions, but several other sporting events that might include volleyball, table tennis, netball and basketball."
The governing body has submitted an initial plan to Milton Keynes Council and will put forward a more detailed planning application in January.