Mandy Rayner: Family marks 30 years since police officer was killed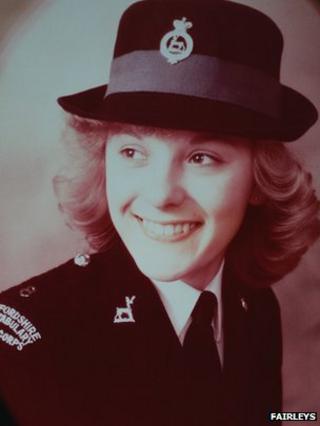 Mandy Rayner became the first female police officer to be killed in service on mainland Britain when she was run down by a drink driver in 1982.
Thirty years on, the family of the 18-year-old from Luton says she was robbed of the opportunity to have children and continue her career.
Ms Rayner joined Hertfordshire Police cadets in September 1981 and a year later was working for the force at Hitchin Police Station.
Just five weeks after leaving training school she was killed when a car pursued by other officers ploughed into the side of her patrol car.
Last weekend, a bench and plaque were unveiled in her memory at Hertfordshire Police headquarters in Welwyn Garden City.
Her mother, Sylvia Rayner, said: "Mandy would have retired this year after 30 years.
"I've often thought how her life would have gone over the years if she had lived."
Mrs Rayner, who lives in Luton, said her daughter "loved the police" but would have taken a career break to have children and to bring them up before returning to work.
She reflected on the time when her daughter told her she wanted to join the force.
"I said 'oh Mandy that's so right for you'. It made sense. It never entered my mind or my husband's that she might be killed while on duty.
"No policewomen had been killed then."
Ms Rayner remains the youngest woman officer in the country to be killed while on duty.
She had been working nights and on 13 October 1982 was with PC Roy Bowdery at Royston Police Station.
A call came through that police officers were pursuing a caravanette which was being driven by a suspected drunk driver along the A505 from Baldock and heading towards Royston.
PC Bowdery, with Ms Rayner as his observer, drove from the station to the roundabout where they knew the fleeing vehicle would have to go round.
They parked on the inside of the roundabout and the plan was that as the caravanette went by, they would get in behind and follow it.
The driver who was being pursued by other officers came up to the roundabout at about 23:30 BST and then drove straight at the police car, sending it somersaulting several times.
Ms Rayner was killed instantly.
The man who drove into the police car that night was jailed for five years at St Albans crown court for manslaughter.
Mrs Rayner said that throughout the pain, she was proud that her daughter had given her life trying to protect the public.
She discovered her daughter's diary after her death and relayed entries made during a cadet training trip to Snowdonia National Park in May 1982.
Ms Rayner wrote: "I'm basically very happy although a little worried about the future - especially in the job.
"Sometimes I don't like the thought of leaving home, though it's part of growing up. I hope my future is happy and I'd also like to tackle many new experiences.
"Marrying Mr Right and bringing up a family is important to me - in fact I look forward to being properly pregnant.
"I often wish I could be little again with all the fun of childhood.
"I'd like to bring my children up how my parents have brought my sister and I up - in a happy contented atmosphere with plenty of new happenings and experiences."