Colonel Riley Workman murder: Cell mate evidence is 'fantasy'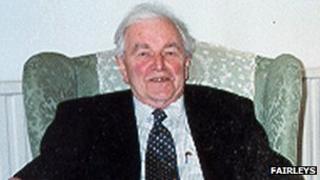 A former cell mate of the man accused of murdering retired Lt Col Robert Workman in Hertfordshire has been told his evidence is "complete fantasy".
The man, who cannot be identified, had told St Albans Crown Court that Christopher Docherty-Puncheon had confessed to shooting the colonel.
The defence counsel said Mr Docherty-Puncheon did not make such an admission.
The cell mate agreed he had his sentence reduced for helping police.
Mr Docherty-Puncheon is on trial after pleading not guilty to the murder of Lt Col Robert 'Riley' Workman on the night of 7 January 2004.
The former cell mate claimed Mr Docherty-Puncheon said he was a professional hit man who had been paid £60,000 "by people from London" to shoot the 83-year-old at his cottage in Furneux Pelham.
'Not right'
Cross-examining, defence barrister James Wood QC, said: "At no stage did he make an admission."
The man replied: "This is not right."
Mr Wood claimed the man's evidence "was all complete fantasy". The man replied: "You can say what you like."
The jury have been told how at around 20:15 GMT, Lt Col Workman, a widower, answered a knock at the door of his home and was blasted in the body by a single shot from a double barrelled shotgun.
He was found the following morning by his carer.
At the time, the defendant, formerly known as Christopher Nudds, was 24 and living with his parents in the neighbouring village of Stocking Pelham.
He had worked for Lt Col Workman in the past, according to the prosecution, having visited his home just months before his death to deal with a wasps' nest.
The jury have heard that at the end of 2004 the accused was arrested and remanded in custody at Bedford Prison for the murder of traveller Fred Moss, 21.
It was during his time in a shared prison cell that he is alleged to have told the other inmate how he had shot the retired army colonel.
Mr Docherty-Puncheon's cell mate agreed he had a two year reduction in his sentence because he helped the police.