Mia Elcock inquest: 'No evidence' of heart problem, says doctor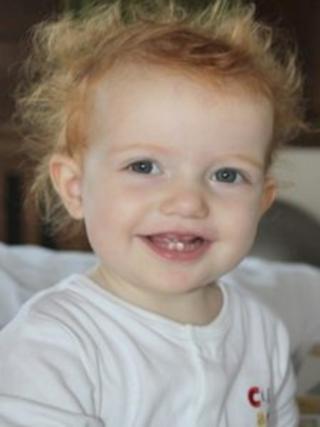 A toddler died from heart failure in hospital after being diagnosed with a chest infection, an inquest has heard.
Mia Elcock, one and from Little Horwood, died last October after being taken to Milton Keynes Hospital with breathing problems.
A doctor who treated her said he had a "hunch" it was a cardiac problem but there was no supporting evidence.
Post-mortem tests found she had an "extremely rare" heart condition, the Milton Keynes coroner was told.
Mia was taken to Milton Keynes Hospital on 23 October and admitted to the paediatric unit because the accident and emergency department had been closed as a result of flooding problems.
A chest x-ray showed she had pneumonia, so she was given oxygen and saline but suffered a cardiac arrest and died at 03:29 BST on 24 October.
'Extremely rare'
Dr Francis Aikins, a locum working as a registrar, who treated her on admission, said he was not aware of the toddler having blood in her vomit, one of the reasons for her admission.
However, he also said he did not know how that would have suggested she had a cardiac problem.
A post-mortem examination discovered she had a large "vegetation" on her heart.
Giving evidence at the inquest at Milton Keynes crematorium, Dr Nick Archer, a consultant paediatric cardiologist at Oxford University Hospitals NHS Trust, said it was an "extremely rare condition" in a micro-valve, which is difficult to diagnose.
He said it was unlikely he would see any cases like this within a five-year period.
Consultant paediatric pathologist Dr Steve Gould, who carried out the post-mortem examination, said he had never seen anything like it.
The hospital says it will comment after the verdict is recorded.
The hearing continues.