Milton Keynes cows to stay as skeletons for Halloween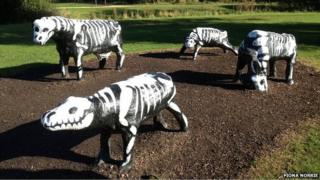 Milton Keynes' famous concrete cows, vandalised last Tuesday night, will remain as skeletons until after Halloween.
The Parks Trust, the charity which maintains the three cows and calves in Bancroft, has condemned the vandals, estimating repairs will cost £2,000.
But it is holding off on their restoration after "hundreds" sent messages approving of the "makeover".
A spokesperson said: "We're grateful people care so much about the cows."
Designed by artist Liz Leyh, the cows were made in 1978 as a leaving present from the Milton Keynes Development Corporation - which oversaw the building of the "new town".
Since they arrived they have been stolen, beheaded, painted pink and had pyjamas and "BSE" painted on them.
'Original vision'
Trust chief executive David Foster said: "Hundreds of people across Milton Keynes have sent messages to say that they approve of the concrete cows' makeover and would like to keep the skeletal versions.
"As a result we've decided to keep the cows as they currently are and then to restore them to the artist Liz Leyh's original vision after Halloween.
"The public has also offered to help with restoring them and we're grateful that people care so much about the cows."
The trust, which has reported the damage to Thames Valley Police, also said the cows might have to be moved in the long term but it was "looking at options" for their restoration.
Carys Underwood from the tourism promoters Destination Milton Keynes said the "right decision" had been made.
"We would never condone any vandalism but having seen these close up the person who has done this has really thought about this and really taken a lot of care and they do look amazing," she said.
"From the positive feedback the people of Milton Keynes have given on social media sites, they have really taken them to their hearts and want them to stay like this."