Jimmy Savile hospital cafe 'could be renamed'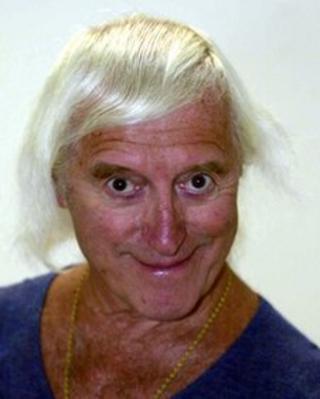 A Stoke Mandeville Hospital cafe called "Jimmy's" in honour of Jimmy Savile could be renamed, it has emerged.
The cafe for visitors and patients was opened by Savile in 2005 in recognition of his fundraising for the spinal injuries unit.
Volunteering charity WRVS, which runs Jimmy's, told the BBC it was considering a name change.
Thirteen police forces have received allegations of abuse by Savile, who died a year ago, aged 84.
David McCullough, chief executive of WRVS, said: "WRVS is working closely with Stoke Mandeville Hospital to assess whether it is possible to change the name to Cafe@WRVS, aligning it with other WRVS hospital cafes across Britain."
The cafe's neon sign is in the shape of Savile's signature.
'Concerns dismissed'
A woman who was at the hospital in 1971, as a 13-year-old patient, has said Savile sexually assaulted her in a corridor.
"He rammed his tongue down my throat... and walked off," said 53-year-old Caroline Moore.
She added her parents did not believe her because of the broadcaster's profile.
Retired Thames Valley detective John Lindsay, 71, said he raised concerns about Savile abusing girls at Stoke Mandeville but they were dismissed.
When he reported the matter he was told by a senior colleague not to worry and that Savile "must be OK", he said.
Thames Valley Police said it would pass information to the Metropolitan Police.
Buckinghamshire Healthcare has said it has "no record" of inappropriate behaviour by Savile but would work with police.
It said police had been in touch this week as part of their investigations into alleged abuse by Savile.
The Metropolitan Police is leading an inquiry into claims of abuse against the BBC presenter and is pursuing 120 separate lines of inquiry.