Jimmy Savile: Detective's Stoke Mandeville concerns 'ignored'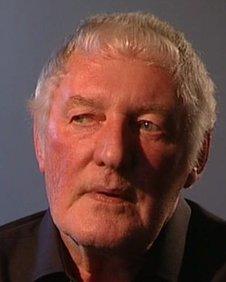 A retired detective has said he raised concerns that Jimmy Savile was abusing girls at Stoke Mandeville Hospital but they were dismissed.
John Lindsay said a nurse at the hospital told him staff were worried that Savile was touching girls inappropriately on hospital visits.
When he reported the matter he was told by a senior colleague not to worry and that Savile "must be OK", he said.
Thames Valley Police said it would pass information to the Metropolitan Police.
Thirteen police forces have now received allegations of abuse by the entertainer, who died a year ago, aged 84.
One woman said Savile abused her when she was a 13-year-old patient at Stoke Mandeville, Buckinghamshire.
Caroline Moore, 53, said Savile sexually assaulted her during a visit to the spinal injuries unit in 1971.
"He rammed his tongue down my throat... and walked off," said Ms Moore, who added her parents did not believe her because of the broadcaster's profile.
Mr Lindsay said he was a detective constable with Thames Valley Police during the late 1970s when he spoke to a young nurse at the hospital, where Savile was a major fundraiser and regular visitor.
"She and her colleagues were concerned about Savile's attention to little girls in hospital," he said.
"She said to me at the time they didn't like Savile because he was he was touching little girls in hospital, not necessarily in a sexual way, but touching them and they were unhappy about the way he was going on.
"They told the little girls who were in hospital to stay in bed and give the impression they were asleep."
Mr Lindsay, 71, said that he reported his concerns to colleagues "about twice".
He said when he did, a senior colleague told him: "Jimmy Savile is a high-profile man. He must be OK. He could not be doing anything irregular. Don't worry about it.'
Mr Lindsay said: "I wasn't satisfied but there was nothing I could do about it."
Mr Lindsay said he later went on to work for the National Crime Squad, reaching the rank of detective inspector and retiring in the early 1990s.
Thames Valley Police said if it could confirm Mr Lindsay was an ex-officer of the force, it would contact him to see whether any of the officers he allegedly raised his concerns with were still with the force.
"If so, the force professional standards department will consider whether an investigation is necessary," it said.
"The details of Mr Lindsay's allegations will be passed to the Metropolitan Police who are co-ordinating the investigation."
Buckinghamshire Healthcare said on Wednesday it had "no record" of inappropriate behaviour by Savile but would work with police.
It said police had been in touch this week as part of their investigations into alleged abuse by Savile.
Related Internet Links
The BBC is not responsible for the content of external sites.