Jimmy Savile: Stoke Mandeville Hospital contacted by police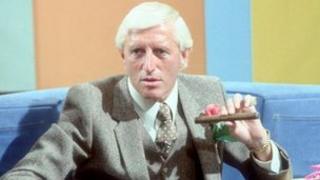 Stoke Mandeville Hospital has been contacted by police as part of an investigation into alleged abuse carried out by Sir Jimmy Savile.
Buckinghamshire Healthcare said it had "no record" of inappropriate behaviour by Savile but would work with police.
Savile was a regular visitor to the hospital, raising millions of pounds for its spinal injuries unit.
Police investigating claims of abuse by Savile are pursuing 120 separate lines of inquiry, Scotland Yard has said.
Officers said they had recorded eight allegations against him, including two rapes, and there could be 30 victims.
In a statement, the trust said: "Buckinghamshire Healthcare is shocked to hear of the allegations about Jimmy Savile.
"We are unaware of any record or reports of inappropriate behaviour of this nature during Jimmy's work with the trust.
"We can confirm that the police have contacted us this week as part of their assessment exercise and we are co-operating with them fully."
Savile, who died in October last year, aged 84, was a major fundraiser for the hospital.
'Bereaved and unhappy'
He began his charity work for the NSIC in 1972 after joining as a volunteer porter in 1969.
Sylvia Nichol, a trustee of The Jimmy Savile Stoke Mandeville Hospital Trust, told BBC Three Counties she had known Savile for many years and had found it hard to come to terms with the allegations against him.
"I feel sad, really. I feel bereaved, really, and just so unhappy," she said.
"How do you feel when you are suddenly confronted and told that a member of your family is a murderer?
"I only know that in 38 years I did not see anything like that and if you did you would report it immediately."
The trust is due to meet later this month to discuss dropping Savile's name from its title.