Colonel Riley Workman murder: Defendant confessed to cell mate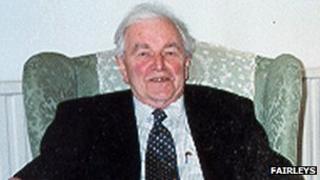 The man accused of murdering a retired army colonel in Hertfordshire told a former cell mate he carried out the killing, a court has heard.
The cell mate said Christopher Docherty-Puncheon told him he had gone to to the cottage of Lt Col Robert "Riley" Workman and shot him.
St Albans Crown Court also heard claims the defendant claimed to be a professional hit man.
Mr Docherty-Puncheon, 33, denies murder.
The former cell mate, who cannot be identified, told the jury that Mr Docherty-Puncheon said he had been paid £60,000 "by people in London" to shoot the 83-year-old at his cottage in Furneux Pelham on 7 January 2004.
Lt Col Workman was found the following morning by his carer.
'Sexual relationship'
At the time, the defendant, formerly known as Christopher Nudds, was 24 and living with his parents in the neighbouring village of Stocking Pelham.
The jury have heard that at the end of 2004 the accused was arrested and remanded in custody at Bedford Prison for the murder of traveller Fred Moss, 21.
It was during his time in a shared prison cell that he is alleged to have told the other inmate how he had shot the retired army colonel.
The former cell mate said: "He said some kind of sexual activity or a sexual relationship with [Lt Col Workman] had taken place and he had been round to his house quite a lot.
"He said he was a really wealthy man and he was really generous with his money."
The man claimed Mr Docherty-Puncheon then told him how he had shot the colonel dead on his doorstep.
The trial continues.