Stevenage giant cycle lane creates pedestrian confusion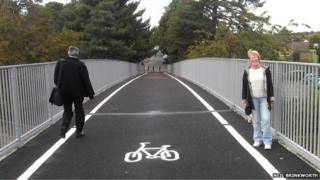 A new cycle lane that dominates a bridge in Hertfordshire is causing confusion for pedestrians who are staying on the narrow edges.
The bridge over Fairlands Way, Stevenage, was resurfaced by the county council's highways unit last month.
Resident Neil Brinkworth said he was "astonished" at the council's work, saying "it's crazy watching everybody blindly obeying the lanes".
The council said the new lines met "current codes and standards".
Mr Brinkworth, who crosses the bridge two to three times a week, said: "It's making everybody go down the edge of the bridge.
'Makes no sense'
"As a nation we are good at following instructions, but it does make you think 'why have they done that?'
"It's rarely used by cyclists. Was it a health and safety issue? I can't recall any issue of anyone crashing on the bridge. It makes no sense at all."
Hertfordshire County Council said: "The lines in place on the Fairlands Way path have been installed in accordance with the scheme design and to current codes and standards.
"The lines are not intended to form pedestrian lanes, nor pedestrian exclusion zones. They are guidance for cyclists.
"Pedestrians are free to walk wherever they like. The signing provided at the bridge indicates this to bridge users."