Colonel Riley Workman murder trial: Victim changed will before death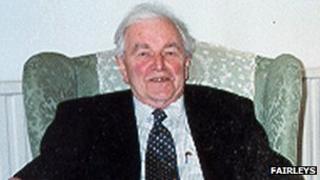 An 83-year-old retired army officer killed in his own home had changed his will just weeks before his death, St Albans Crown Court has heard.
Lt Col Robert "Riley" Workman was found dead on his doorstep in Furneux Pelham, Hertfordshire, on 7 January, 2004.
Christopher Docherty-Puncheon, 33, from Stocking Pelham, denies the murder.
His barrister James Wood QC when cross-examining Lt Colonel Workman's carer Josette Swanson revealed his will had been altered and she was a beneficiary.
On Thursday, Mrs Swanson told the court she provided personal care for Lt Col Workman's paraplegic wife when she was alive. He kept her employed at the home after his wife's death.
She arrived at Cock House on the morning of 8 January 2004 to find him dead, with his feet hanging out of the doorway, and described how she initially thought he had suffered a heart attack.
"I leant over him and asked him what he was doing there," she said.
Solicitor's visit
She then pulled his body - which was on a rug - inside the house and telephoned for help.
On day three of the trial, Mrs Swanson described Lt Col Workman as having a "tormented mind".
She said he was worried about a rat problem at the house and did not want to use the pest controller that they had used before - Mr Docherty-Puncheon.
When asked by barrister Mr Wood if Mrs Swanson was aware that her employer had changed his will, she replied: "No, I knew there was a solicitor's visit but not that he changed his will."
Mr Wood asked: "Did you know that Riley had made you a beneficiary?"
Mrs Swanson replied: "No I didn't."
Mr Wood then asked: "After it became clear he'd been shot you said to the paramedics 'I hope nobody thinks I did it'."
Mrs Swanson replied: "Maybe I did, in shock, but I know damn well I didn't. I may be a farmer's daughter but I don't own a gun."
The trial continues.