Colonel doorstep murder trial: Accused 'made hit man claim'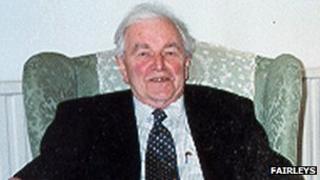 A man accused of murdering an 83-year-old retired Army officer told a prisoner he was "a hit man" who had been paid for the killing, St Albans Crown Court has heard.
Lt Col Robert "Riley" Workman was found dead on his doorstep in Furneux Pelham, Hertfordshire, on 7 January, 2004.
Christopher Docherty-Puncheon, 33, from Stocking Pelham, denies the murder.
The court heard Mr Docherty-Puncheon also claimed, while in prison, he had had a gay affair with Lt Col Workman.
Jurors were told they would hear the evidence of two prisoners alleged to have heard confessions from Mr Docherty-Puncheon.
At the time of the shooting the defendant was a pest controller living with his parents in the neighbouring village of Stocking Pelham.
He had worked for Lt Col Workman in the past, according to the prosecution, having visited his home to deal with a wasps' nest.
Richard Latham QC, prosecuting, told jurors that during the trial they would hear about two murders - Lt Col Workman's and the killing of Fred Moss.
Mr Latham said: "They are linked killings and we allege both men died at the hands of this defendant. You have to try this defendant on the allegation that he murdered Colonel Workman."
The court was told that Mr Moss was killed in 2004 and, in February 2006, the defendant was convicted of his murder.
Mr Latham said that Mr Docherty-Puncheon's conviction for the murder of Mr Moss was a fact and he said it might help them conclude that he was capable of "cold blooded murder".
Police inquiries linked Mr Moss to Mr Docherty-Puncheon and he was arrested on 5 December 2004. He was later charged with the murder of Mr Moss and convicted of the killing by a jury in 2006.
'Generous with money'
Mr Latham said it was while the defendant was being held in prison that he is said to have confessed to two fellow inmates about both murders.
The jury heard that while on remand in Bedford Prison the defendant made a series of confessions to the first inmate in which he described himself as a "modern day hit man who had killed people for money".
The court was told that Mr Docherty-Puncheon allegedly told the other prisoner he had had sex with Mr Workman, who was generous with his money.
Mr Docherty-Puncheon claimed that after shooting Lt Col Workman - known by many as "The Colonel" - he returned home by taking a route across fields and later went out to call an ambulance from a phone box, but the ambulance crew could not find the address, jurors heard.
The case continues.