Mehar Dhariwal murder: Daniel Rogers found guilty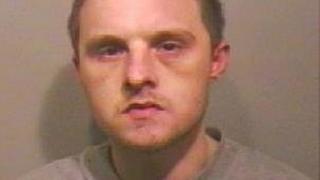 A man who kicked and punched a taxi driver in a row over an advance fare has been found guilty of murder.
Mehar Dhariwal, 61, of Kempston, was attacked by Daniel Rogers at Bedford's AGS taxis on 22 January. He died a week later.
Rogers, 27, of The Cloisters, Bedford, was sentenced at Luton Crown Court to life with a minimum of 25 years.
He admitted the manslaughter of Mr Dhariwal but had denied murder.
Rogers, who has Tourette Syndrome, had gone out drinking in Bedford on 21 January after a row with his girlfriend, the jury heard.
Prosecutor Sarah Gaunt said Rogers' girlfriend said he was "the gentlest person when sober but was aggressive when drunk".
Miss Gaunt said: "That night the defendant went out and drank alcohol and was in an intoxicated state when he arrived at AGS taxis at 5am."
'Punches and kicks'
Rogers became racially abusive and aggressive when Mr Dhariwal asked for a fare up front.
Miss Gaunt said: "The defendant could have just left, but chose to follow.
"After following him into the office the defendant attacked Mr Dhariwal before he could close the internal office door.
"The attack… involved several punches and kicks to the victim with such ferocity he went to the floor. Mr Dhariwal was not aggressive."
The court heard Mr Dhariwal, who was covered in blood, had a lump on his head the size of an egg and suffered an injury to his chest, was taken to hospital.
The Indian-born former bus driver was discharged but did not tell his family of the attack, saying he had been involved in an accident, the jury was told.
Five days later he collapsed at his Kempston home while with his daughters-in-law and never regained consciousness.
The cause of death was bleeding on the brain.