Bedfordshire's Super Naga is 'hottest high street chilli'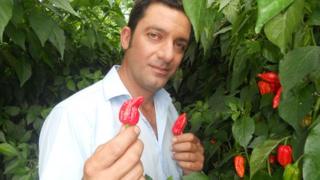 A Bedfordshire farmer says he is "feeding the hunger" of chilli lovers by producing the hottest pepper available on supermarket shelves in the UK.
The Bedfordshire Super Naga, which has a reading of 1.12 million Scovilles, the unit used to measure chilli pepper heat, was developed by Salvatore Genovese and can only be found on his Blunham farm.
He was inspired to grow the chilli commercially after successfully launching the previous hottest UK commercial pepper, the Bhut Jolokia, in 2011. It had a reading of 1.001 million Scovilles.
"There seems to be a craze in a niche part of the population to try the hottest chilli there is and we are trying to feed that hunger," said Mr Genovese.
"We are the only farm growing it at the moment.
"There may be hotter chillies in the UK but this is the hottest readily available to the public on supermarket shelves nationwide."
'Extreme caution'
Thought to be the UK's largest chilli grower, Mr Genovese revealed the pepper had been in research and development for the past two years under the codename Mongolian Bumburner.
He said it had been developed from an older variety from the Assam region of India and was not an easy plant to cultivate as growth was "very, very slow", but the success of the Jolokia spurred him on.
"It doesn't produce a lot of chillies and takes a long time to produce them," he said.
"The longer [a chilli is] on a plant the hotter it is and the Super Naga has a good five and a half to six months from seed to picking as opposed to about three months for milder chillies."
It has quickly grabbed chilli fans' attention and Mr Genovese said there are already films of people eating it on the YouTube website.
"They show a pack of the chilli, then putting one in their mouth and then just dying of the pain," he said.
Supermarket chain Tesco has snapped up the new strain and launched it with the hottest six chilli rating on the packaging.
The heat level was confirmed by chilli buyer Gethyn Formby, who said the flavour takes time to build.
"It's very deceptive because it takes a good 30 seconds for the heat to really start working and then it continues to build for a few minutes," he said.
Hotter pepper due
"It's definitely not for the faint-hearted and should be tasted with extreme caution.
"Chilli pepper culture in the UK has really come on in the last few years and chillies are no longer thought of as a culinary novelty."
This is borne out by Mr Genovese, who has been growing chillies for 15 years and has a total of around 100,000 plants on his farm, grown in computer-controlled glass houses.
He revealed demand for chillies in general has never been higher, with his farm's most recent record being the production of 750,000 peppers in six days.
"Last year we supplied about 10 million chillies and we will be pushing 15 million this year," he said.
"Demand is increasing, chillies are still 'nichey' but I feel they are getting to where garlic is now in popularity."
He has around 2,000 Super Naga plants and produces 100kgs of the pepper per week, but says he will not stop there.
"We feel we have a hotter pepper coming," he said. "There is more to come for sure."