Stoke Mandeville Hospital shock at Jimmy Savile claims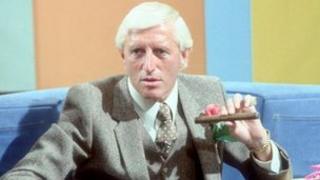 A Buckinghamshire hospital supported by Sir Jimmy Savile says it is shocked to hear of claims the presenter sexually abused teenage girls.
Sir Jimmy was a major fund-raiser for Stoke Mandeville Hospital, collecting millions to rebuild the National Spinal Injuries Centre (NSIC).
In a statement, Buckinghamshire Healthcare said it would co-operate fully with any investigation.
It said it was "unaware of any inappropriate behaviour" by the star.
The claims that he abused under-age teenage girls are made in a documentary due to be aired on ITV on Wednesday.
Volunteer porter
Sir Jimmy began fund-raising for the NSIC in 1972 after joining as a volunteer porter in 1969.
The unit was founded in 1944 by neurologist Professor Sir Ludwig Guttmann to treat servicemen who had sustained spinal cord injuries in World War II.
However, by 1979 the buildings were getting dilapidated and Sir Jimmy began a campaign to re-open the unit.
It raised £10m within three years and created of a purpose-built spinal cord injuries centre which opened in 1983.
Following Sir Jimmy's death in October 2011, senior manager David Griffiths said: "We understand he effectively raised well in excess of £40m [for the unit]".
'Co-operate fully'
After the allegations against the TV presenter were revealed, a spokesperson for Buckinghamshire Healthcare said: "[The trust] would of course co-operate fully if the appropriate authorities decide to investigate and call upon us for input.
"We are unaware of any record or reports of inappropriate behaviour of this nature during Sir Jimmy Savile's work with the trust."
It also said that due to "the very serious nature" of the allegations and the time that had elapsed, it "does not feel it appropriate to comment further at this time".