Suffolk fireman dies at Lee Valley White Water Centre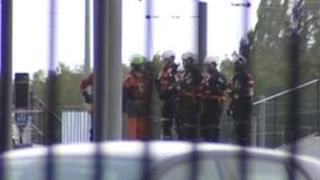 A Suffolk firefighter has died while on a training exercise at an Olympics water sports venue in Hertfordshire.
Alan Soards, 38, from Lowestoft, was taken ill in the water at the Lee Valley White Water Centre at Waltham Cross on Tuesday.
Three ambulances and two air ambulance teams attended, but attempts to resuscitate Mr Soards failed.
Suffolk Fire and Rescue Service said it was "devastated" by the death of Mr Soards, an experienced firefighter.
Andy Fry, chief fire officer, said Mr Soards had been on water rescue training when he was taken ill.
'Devastating loss'
"Despite valiant attempts, his firefighter colleagues and paramedics were unable to save his life," he said.
"Of course, our thoughts at this very sad time are with Alan's family and friends and also with his firefighter colleagues who were with Alan at the time he was taken ill.
"Everyone has been stunned by these events. This is a devastating loss for Suffolk Fire and Rescue Service.
"We are a small fire service where people tend to know each other well and Alan had been a firefighter with us for over 11 years."
He said Mr Soards was an experienced, extremely professional and capable member of White Watch at Lowestoft South fire station who was highly regarded by his colleagues.
"He loved his job and was well respected by those who worked with him, many of whom also considered Alan to be a close friend," Mr Fry said.
"I want to pay tribute to the firefighters from both Suffolk and Norfolk who were with Alan yesterday and to our colleagues in the other emergency services who fought so hard to save his life.
"We have already started working very closely with colleagues from Hertfordshire Police and the Health and Safety Executive to establish full details of what led to Alan's untimely death."
He said the fire service was grateful for offers of support and assistance from colleagues across the country.
It is understood Mr Soards had no history of medical problems.
Smaller course
He was not married, but leaves behind parents and a sister.
A spokesman for Lee Valley Regional Park Authority said: "Everyone at Lee Valley White Water Centre is very saddened about the news of firefighter Alan Soards' death yesterday and our thoughts are with Alan's family and friends.
"The incident took place during a fire and rescue service training exercise on the legacy course, the smaller of the two courses at the centre.
"These training exercises have taken place regularly since the centre opened and are not related to our public canoeing or rafting activities."