Croxley Green church considers appeal against chime ban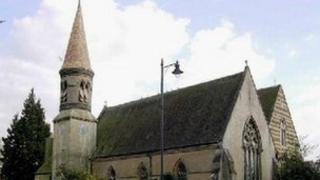 A village church in Hertfordshire is to decide whether to fight a noise abatement order preventing its bells from chiming at night.
Three Rivers District Council issued the order against All Saints Church in Croxley Green to stop its clock chiming between 23:00 BST and 07:00 BST.
The notice was served after a resident complained the chimes were keeping them awake at night.
A parochial church council meeting is to be held later on whether to appeal.
Although the bells only have to be silent overnight, the mechanism is such that they have to be turned off completely.
A Three Rivers District Council spokesman said one person had complained about the bells.
"A complaint about noise at night which was disturbing sleep was investigated," the spokesman said.
"We have a legal duty to investigate noise complaints."
'Concern' over ban
The spokesman said the council had not received any complaints about the chimes during the day.
The Reverend Miriam Mugan, vicar of All Saints, said the parochial church council meeting, made up of representatives from the church, would discuss what to do for the best.
"I understand there has been a lot of concern [about the ban] in the village," she said.
"We're going to look at the whole situation and decide a way forward."
The bells have chimed on the hour, every hour for 140 years.
The noise abatement notice was served on 26 September and the church has 21 days to appeal against the notice.
Croxley Green has two village greens and a population of about 12,000 people.