Olympic champion Greg Rutherford at Woburn Sands parade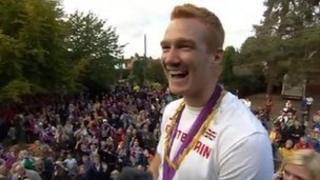 Olympic long jump champion Greg Rutherford has been honoured with an open-topped bus tour in his home town of Woburn Sands, near Milton Keynes.
Hundreds of people turned out to welcome Rutherford, who won the 2012 Olympics with a jump of 8.31m.
As part of the celebrations on Friday, he unveiled a plaque at Mowbray Green commemorating his winning jump.
Rutherford said the parade was "out of this world".
"I never expected this at all," he said.
"I was worried nobody would have turned up because they would all have forgotten what the Olympics were.
"This just shows how amazing sport is at bringing people together and how fantastic this Olympics has been."
His father Andy, described his son's achievement as "beyond my wildest dreams".
Earlier this month, Mr Rutherford criticised Milton Keynes, the town where his son grew up, for not organising a reception for the athlete.
Instead, the council in Milton Keynes has organised a fun day, which is taking place later, to honour local games makers, torch bearers and others who helped with the London Games.
Local Paralympian fencer Gabi Down is at the event.
Greg Rutherford is unable to attend because of previous commitments.