Wenlok Jug returned to museum after theft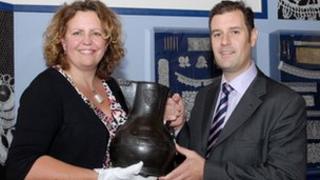 A 14th Century jug has been returned to a Luton museum after it was stolen.
The Wenlok jug, worth £750,000, was taken from Stockwood Discovery centre in May.
It was recovered by Bedfordshire Police in the early hours of 24 September at a property in Tadworth, Surrey. Two people were arrested.
Director of Musems Karen Perkins said any damage to the jug was being assessed and security improved before it went back on display.
She said: "The theft has made us look really into our security systems and we need to make sure we have upped our game and improved our security but our ambition is to get it back on display as soon as we can."
One of those arrested has been charged with handling stolen property and the other has been released on bail.