Stolen Wenlok Jug from Luton 'recovered in Surrey'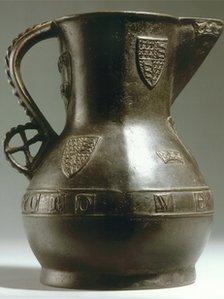 A 14th Century Wenlok Jug worth £750,000 that was stolen from a Luton museum, has been found, police believe.
The jug was taken from the Stockwood Discovery Centre in Luton on 12 May, but has turned up in Surrey.
The bronze creation is decorated with coats-of-arms and inscribed with the words "My Lord Wenlok."
Bedfordshire Police said experts from the museum are due to examine the jug to determine whether it is the genuine article, on Wednesday.
It is thought the jug was made for either William Wenlock, who died in 1391 and was canon of St Paul's Cathedral, or his great-nephew John, the first Lord Wenlock, who was a major figure in the 15th Century.
Of two people arrested in connection with its theft, the force said one has been charged with handling stolen property and the other has been released on bail.
Det Sgt Barry Townson, who is investigating the burglary, said: "We are, of course, delighted that the jug has been recovered and will be returned to its rightful home but the investigation continues into how it came to be in Surrey and who was responsible for the burglary. I would like to re-appeal to anyone with information about the burglary to come forward."
The jug was stolen during an overnight break-in over a weekend in May. A £25,000 reward was offered and the case was featured on the BBC's Crimewatch programme.
A Stockwood Discovery Centre spokesman said: "We are thrilled that the Wenlok Jug has been successfully recovered and would like to thank Bedfordshire Police for their diligence and hard work over the course of the investigation. We look forward to this irreplaceable piece of local history returning to Stockwood Discovery Centre and the community of Luton."
In 2005, the jug was nearly sold abroad, but a temporary export ban provided the opportunity for Luton Museum to raise the £750,000 needed to buy it.
Related Internet Links
The BBC is not responsible for the content of external sites.