M40: Buckinghamshire solar power noise barrier scheme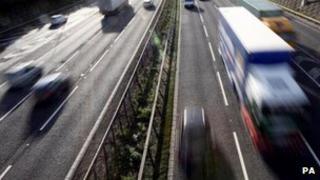 Special barriers to reduce noise and generate electricity along the M40 motorway in Buckinghamshire have moved a step closer.
A proposal to install barriers with built-in solar panels has won support from the Highways Agency and Wycombe District Council.
M40 Chilterns Environmental Group (M40CEG) said barriers would improve the quality of life for 20,000 people.
The barriers are already used in other countries but not in the UK.
Electricity generated by photo-voltaic panels on the barriers could be used to help power homes and businesses along the motorway.
M40CEG proposes setting up a co-operative to raise funds to install barriers along 20 miles (32km) of the road and operate them for the benefit of local communities.
Now it has formed a partnership with the council and the Highways Agency to develop the scheme and hopes to produce a business plan in the New Year.
Charles Meakings, head of democratic, legal and policy services at Wycombe District Council, said: "We are excited and inspired at the opportunity to work with M40CEG on such an innovative and pioneering project and delighted to be part of a ground-breaking partnership between our local communities, local and central government."