Milton Keynes: Electric buses to replace diesel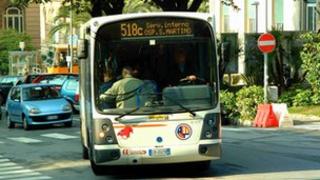 New wirelessly-charged electric buses are due to begin operating on a main route in Milton Keynes next summer.
Diesel buses on the number seven route between Wolverton and Bletchley will be replaced by eight electric vehicles under an agreement signed on Tuesday.
They will be charged for 10 minutes before and after each run, by parking over electric coils buried in the road.
The consortium behind the plan claims the buses will reduce pollution and be much quieter than diesel buses.
It also claims each bus will cost between £12,000 and £15,000 less to run per year .
Milton Keynes Council, bus operator Arriva and six other companies have signed a five-year deal for the buses.
John Bint, cabinet member for transport at the council, said: "We are delighted to be leading the way with this innovative public transport trial.
"Milton Keynes led the way with the installation of electric car charge points, and we're now showing the world how electric buses are a real alternative to the traditional diesel buses."