Luton marriage scam 'Mr Fix It' jailed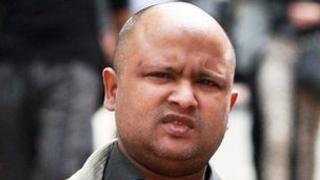 A Bedfordshire Indian restaurant owner behind a sham marriage scam has been jailed for four years.
Gyash Uddin, 39, of Ivy Road, Luton, used his business to help Bangladeshi men gain UK residency.
Luton Crown Court heard he set up marriages between the men and workers at restaurants he owned.
Jailing Uddin, Judge David Farrell QC told him: "You were at the centre of this scam. You were the Mr Fix It."
Father of five Uddin, a Bangladeshi-born British citizen, was behind an organised criminal conspiracy to get male members of his family married off to Polish women so they could remain in this country.
At the centre of the operation was a restaurant he ran and where some of the women worked as waitresses.
Polish bride
At one register office sham marriage he had organised, where the reception was held at his Indian restaurant, some guests had been surprised that 30 minutes after the meal, Polish bride Dorota Wysocka and Bangladeshi groom Mohammed Razul Miah - who was Uddin's brother-in-law - were back at work in the restaurant's kitchen.
In other cases, registrars receiving applications by couples to marry had been struck by the fact that neither the would-be Polish bride or her proposed Bangladeshi groom could talk to each other because of language difficulties.
The court heard it was a restaurant called Moja in the market town of Leighton Buzzard in Bedfordshire that was at the centre of a sham marriage scam.
Uddin appeared for sentence having been found guilty earlier this summer of eight offences of conspiring to facilitate a breach of immigration laws by non EU citizens.
Breaching immigration rules
Miah, 35, an illegal immigrant also of Ivy Road, Luton, appeared for sentence having earlier been found guilty of two similar charges.
Illegal immigrant Mohammed Dolon Miah, 29, of Spencer Road, Luton, was earlier convicted of two charges of conspiring to facilitate a breach of immigration laws by non EU citizens. He is a nephew of Uddin.
With them in the dock and pleading guilty to one offence of the same charge were Tera Mia, 58, from Hitchin Road, Luton, Polish born Mariusz Rohde, 28, of Studley Road in Luton, his partner Dorota Wysocka, 46, of the same address, Katarzyna Potrykus, 40, of Cowper Street, Luton, Aneta Szczepanik, 36, of Dorset Court, Luton and Kamillia Drozdowska, 28, of Bute Street, Luton.
Razul Miah was jailed for two and a half years, Wysocka was jailed for 16 months, her partner Mariusz Rohde was jailed for 13 months, Dolon Miah was jailed for two and a half years, Kamila Drozdowska was jailed for 13 months, Aneta Szczepanic and Katarzyna Potrykus both got 12 months and Tera Miah was jailed for eight months.