Rothamsted scientists study 170-year-old potatoes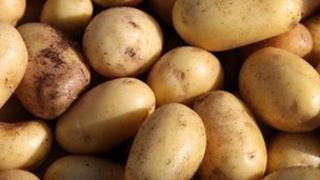 Hertfordshire scientists have studied 170-year-old potatoes to learn lessons from the 19th Century Irish famine.
Potato blight in Ireland in the 1840s caused a food shortage which saw more than one million people die.
Rothamsted Research in Harpenden used DNA techniques on samples stored by 19th Century scientists.
The research showed how the disease survived between cropping seasons. It will also help test for plant diseases in the future.
Potato blight is caused by the microorganism, Phytophthora infestans, which destroys the leaves of potato crops.
Professor Bruce Fitt, who led the research, said there had been a further outbreak of the disease about 30 years after the original famine, which sparked a debate about whether it was the same pathogen strain from the 1840s.
DNA samples
"In a given season it is spread by airborne spores but it also survives between seasons on tubers [the part of the potato plant that is eaten]," he said.
"However, there was no evidence of how the pathogen survived between the 1840s and the 1870s.
"They didn't have the tools to investigate that but we can now use modern techniques to answer questions they couldn't have dreamt of in the 19th Century."
Scientists at Rothamsted extracted DNA from potato samples dating back as far as the 1840s, that had been dried, ground and stored in glass bottles by Victorian scientists, and analysed it for the presence of the blight pathogen.
"We wanted to see if it was the same strain and it was," he said.
"It had survived between the 1840s and the 1870s between seasons on these potato tubers."
Professor Fitt, now at the University of Hertfordshire, said the findings would help deal with a disease that had been "as bad this year as it was in the 1840s".
He said the research, published in Plant Pathology, helped them better understand the spread of potato blight and proved the DNA technique would be useful for testing seed potatoes.
He said it could also be developed to test for other diseases which affect food production.
"[Blight] is still causing millions of pounds worth of damage despite the use of fungicides, particularly when you get a wet year like this one," he said.
"It was the foresight of two 19th Century plant scientists to archive potato samples that has enabled us to better understand late potato blight and the implications for today's food security."