Aylesbury officer's record bid in Great North Run dressed as lamb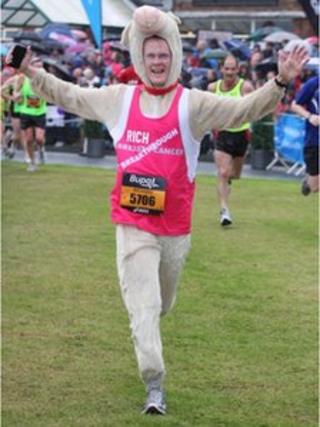 An Aylesbury police officer believes he is a record breaker after completing the Great North Run dressed as a lamb.
Richard Bazeley, 30, hopes to be in the Guinness Book of Records as the fastest person to complete a half marathon dressed as an animal.
He ran the race on 15 September in one hour, 37 minutes and eight seconds.
Raising money for Breakthrough Breast Cancer, he beat the record set in May by a man dressed as a kiwi in New Zealand by 13 minutes and 59 seconds.
He is now collecting the evidence to send to Guinness and said the record "should be a formality".
A former Olympic torchbearer, Mr Bazeley said he wanted to do something "a bit different" to get sponsors for half the distance of a full marathon.
He decided to go for the record, found two costumes suitable to run in and got his friends to vote for them on Facebook.
"I said I was having problems deciding what to have for my dinner and asked them to vote for duck or lamb," he said.
"Everyone voted, then I told them they had decided what costume I would run in."
"The problem was that the head piece meant it was like having a stuffed toy where the heat would normally escape," he said.
"I got hot very quickly and thought I would have to slow down but luckily the rain came at the right time, kept going and kept me cool."
Mother diagnosed
Mr Bazeley first did the Great North Run for Breakthrough Breast Cancer in 2009 after his mother was diagnosed with the disease.
She was treated and survived but last year his mother-in-law was also diagnosed so he decided to run again.
He ran the race with his mother and sister-in-law, who raised about £1,500 between them, although neither woman dressed in an unusual costume.
"I tried to convince my sister-in-law to dress up as Little Bo Peep but she wasn't having any of it," he said.
A spokesperson from Guinness World Records said they were "happy to hear about Richard's achievement".
"The record management team is now waiting to receive the evidences from Richard in order to be able to review them and letting him know whether or not this is a new Guinness World Records' title," the spokesperson said.