Barnfield College withdraws Luton development plans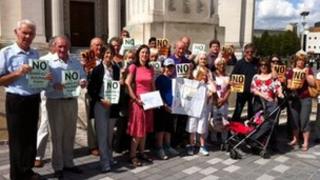 Development plans for a Luton playing field have been withdrawn after being met with local opposition.
Barnfield College submitted proposals in July for a new college, school, care home and housing, using part of its public grounds.
But residents said open space would be lost and traffic problems could worsen.
Interim principal Alan Euinton said: "We are a listening organisation and therefore committed to taking on board the opinions of our local residents."
He said: "We are now looking at new and affordable ways to enhance and develop our student buildings and facilities, as well as addressing the concerns raised during the consultation process."
Barnfield College had proposed to build a replacement college building and move the Barnfield Moorlands Free School to the site on Old Bedford Road.
Thirty-nine new homes would have been built, along with an 88-bed care home and new sports facilities.
'Think again'
District councillor Martin Pantling said he was "absolutely delighted" the plans had been withdrawn, and would be "watching very carefully" to see what the college comes back with.
"The development proposal was completely unacceptable in terms of both the mixed usage and the loss of valuable open space which is in short supply in the area," he said.
"The council had not worked alongside residents in its plan and it is pleasing they have decided to think again."
Sue Gold from the Barnfield Development Action Group called the decision a "real David and Goliath moment".
"It's people power: if you don't put your foot down people will just walk all over you," she said.
The planning application had a deadline of 31 August for objections.
Luton Borough Council confirmed agents for the college requested it "withdraw the application from our work list".