Bedford taxi driver Mehar Dhariwal 'murdered over fare'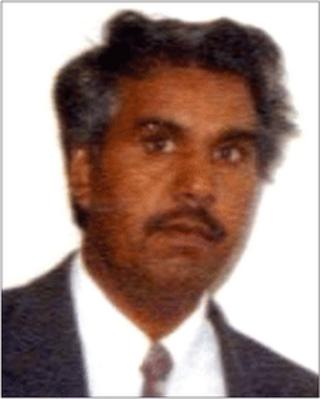 A passenger beat a taxi driver to death in Bedford after being asked for a fare upfront, a jury has heard.
Mehar Dhariwal, 61, of Kempston, was racially abused, kicked and punched to the taxi office floor by Daniel Rogers on 22 January, Luton Crown Court heard.
The driver went to hospital and was discharged but died a week later after collapsing at home.
Mr Rogers, 27, of The Cloisters, Bedford, denies murder but has admitted the manslaughter of Mr Dhariwal.
Prosecutor Sarah Gaunt said Mr Rogers had been drinking in Bedford after an argument with his girlfriend and was in an "intoxicated state" when he arrived at the office of AGS taxis at 05:00 BST.
He got into a taxi with Mr Dhariwal, and was allegedly asked for payment upfront, which was company policy.
Miss Gaunt said Mr Rogers - who has Tourette syndrome - became racially abusive and aggressive, and Mr Dhariwal got out of the cab and discussed with another driver whether to call police.
'Covered in blood'
Mr Rogers got out of the car, kicked it, and followed Mr Dhariwal into the taxi office, she added.
"The attack was witnessed by Christine Clegg and John McAdam," said Miss Gaunt.
"It involved several punches and kicks to the victim with such ferocity he went to the floor.
"The defendant was very angry. Mr Dhariwal was not aggressive."
Mr Rogers left the office but was tracked by Mr McAdam and found and arrested by police.
Mr Dhariwal was covered in blood and had a lump on his head the size of an egg, and had suffered a injury to his chest.
When he was taken to hospital he was not given a CT scan and an X-ray did not detect a broken rib.
He told his family he had been involved in a car accident.
He passed out five days later, while at home with his daughters-in-law, and never regained consciousness.
The jury was told Mr Rogers had initially pleaded guilty to causing actual bodily harm when he appeared before Bedford magistrates before Mr Dhariwal's death.
The trial continues.