Historic Norman King pub delisted after fire damage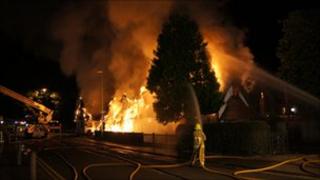 A historic pub in Bedfordshire destroyed in a suspected arson attack has lost its conservation status.
The fire in August 2011 damaged the Grade II listed Norman King pub in Church Street, Dunstable, so badly it could not be repaired.
The thatched building was being refurbished and was empty at the time of the fire.
The Secretary of State for Culture, Media and Sport delisted the pub on the advice of English Heritage.
Tony Calladine, from English Heritage in the East said: "Very sadly, we had to recommend delisting because most of the pub was destroyed in the fire.
"The subsequent collapse caused extensive and irrecoverable damage.
"When making a delisting assessment, English Heritage can only take into account the extent to which the architectural and historic interest of the building survives and in this case there was too little left.
"The Norman King stood in a sensitive historic location within the Dunstable Conservation Area which means that English Heritage should be consulted on any proposals to redevelop the site.
"A replacement building would need to respect the setting of the nearby listed buildings, and preserve or enhance the character and appearance of the conservation area."