Greg Rutherford's dad criticises Milton Keynes reception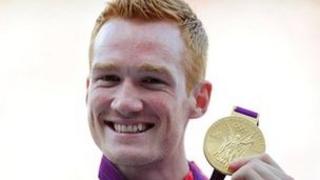 Olympic champion Greg Rutherford's gold medal win has not been properly recognised by the Buckinghamshire town where he grew up, his father has said.
Andy Rutherford said Milton Keynes had "missed a trick" in organising a reception for the athlete.
Milton Keynes council ruled out a bus parade and organised a family day on 29 September, which the athlete is unlikely to attend.
But Andy Rutherford said an open topped bus ride would have been "sensible".
He said: "Young people could see Greg, see he was a normal guy and realise that maybe it could be attainable for them.
"I am not overly impressed, I think they have missed a trick."
'Major achievement'
The council said its family fun day in the town on 29 September would mark the achievement of the town's Olympic and Paralympic athletes.
A Milton Keynes council spokesman said an open topped bus ride was considered but decided to be inappropriate because of the city centre layout.
"Unlike many traditional city centres we are very spread out and, as such, we felt there was a risk that this type of parade wouldn't do Greg justice," he said.
A separate open-topped bus tour is being held in the town of Woburn Sands, where the Olympian has lived for four years.
Mr Rutherford said his son's medal at London 2012, Britain's first in the Olympic long jump for 48 years, was a "major, major achievement".
He said: "I get the impression the mayor's office does not really appreciate what the achievement of winning an Olympic gold medal really is.
"It demands to have some recognition. I am not taking away anything from the other Olympians and Paralympians because they all worked exceptionally hard.
"But to win a medal on top of that, it goes to another level."