New homes near Cardington 'could end airship industry'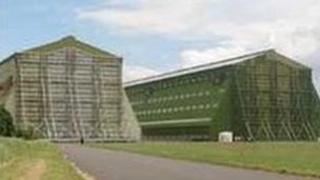 The 94-year-old airship industry in Bedfordshire could come to an end if a planning application goes through, protesters have claimed.
Plans have been submitted to build 167 homes, near Shortstown, south of Cardington airfield and hangars.
Campaigners say if this land is built on, the airfield will not be "operationally viable".
The developer which owns Hangar No 1 says it is putting millions into its restoration and needs the income.
Airships have been built and maintained at Cardington airfield since 1918 after Short Brothers was contracted to build them for the Admiralty. The airfield is still operational.
The hangars are used for maintenance and testing but also for concert rehearsals and for film locations, including the recent Batman movie, The Dark Knight Rises.
On its petition website, the Save Cardington Airfield campaign said the airfield needed protecting.
It said if the housing plan went ahead, there would be no suitable facility to construct large airships in the UK.
It said that as well as needing a large building, "you also need a large open field area to prepare them for flight and ground handling".
Boundary extension
The latest homes plan is in addition to a scheme for 500 houses which already has planning permission, in an area defined as a Settlement Policy Area in the 2000 Local Planning Policy.
Chairman of Cardington Parish Council, Alan Apling said: "The [new proposals] go over that policy boundary and extend way south.
"[The airfield] will cease to be operationally viable in our opinion if these houses are built.
"We have had meetings with various people where we have raised this point and we have never been contradicted."
However, Fosbern said it was putting about £10m into restoring Hangar No 1, which is a Grade II listed building "at national risk".
Managing director Pat Tatton said: "It is a colossal job - it was literally falling down and will take approximately 18 months to restore.
"It requires income from the surrounding land to make it possible and I am glad to be associated with putting it right."
Bedford Borough Council said it had "no firm date as yet" on which to consider the application.