Metal thieves 'put lives at risk' in Stevenage flats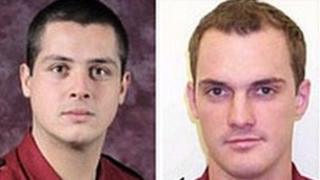 Metal thieves have stolen vital safety equipment from a tower block where three people were killed in a fire.
They took 13 dry riser outlets - large pipes used by firefighters to pump water - from four high-rise blocks in Stevenage, including Harrow Court.
Resident Natalie Close and firefighters Michael Miller and Jeff Wornham died in a fire there in February 2005.
Hertfordshire County Council said the thieves had shown a shameful disregard for the safety of residents.
The pipes were taken over the weekend of 8 and 9 September from Harrow Court and Brent Court, which each have 102 flats, and High Plash and Highcroft, which each have 50.
A report into the 2005 fire found firefighters did not have water to fight the blaze because a riser outlet had been chained shut due to vandalism.
Hertfordshire's chief fire officer Roy Wilsher said: "We have contingency plans and can still get water to all floors of high-rise buildings, but these thefts could delay us dealing with a fire, costing valuable time in saving lives."
Richard Thake, the county council's cabinet member for community safety, said: "It's disgusting that someone would steal life-saving equipment like this.
"By stealing these outlets from high rise residential buildings these crooks are potentially putting people's lives at risk."