Protest over plan to close Bedford's Italian consulate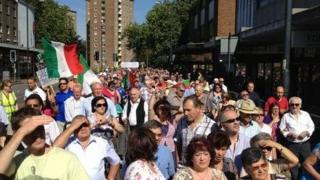 Members of the Italian community have marched through Bedford in protest against the closure of the local consular service later this month.
The town, which has an estimated 20,000 people of Italian origin, has had its own consulate to deal with passports and visas since the 1950s.
Protesters said the elderly would be hit hardest as they would need to travel to London to validate pensions.
An embassy spokesman said many services would be available online or by post.
The Italian Vice-Consulate in Bedford was closed in 2008 as part of a reorganisation of the diplomatic and consular network by the Ministry of Foreign Affairs.
'Bureaucracy'
It was replaced by a smaller office to handle the paperwork needs of the community, which is thought to have the largest Italian population in England outside of London.
Dr Susanna Chirico, one of the organisers of the protest, said: "A lot of the older community who have a pension from Italy need to get a rubber stamp to say they're alive every year. If you're over 80 you have to do that twice a year. There's a lot of bureaucracy.
"With the Italian system for passports you always have to present yourself, so you could not renew that by post.
"Older people and children as well are going to have to be present and finger-printed for their passports."
A spokesman from the Italian Embassy said the consulate general was reorganising itself before moving into "new, larger, offices" in London.
"Some of the services provided will still be available by post or email, while for other services which necessitate personal attendance, such as the issue of a passport, applicants will be required to come to London," he said.