Buckinghamshire £275m waste incinerator plan given green light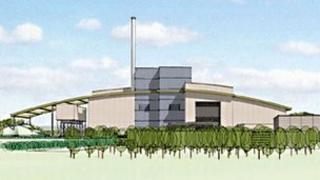 A £275 million plan for an incinerator in Buckinghamshire is "value for money", the county council has said.
The council awarded the contract to build and operate the Energy from Waste facility at Greatmoor in July.
The decision was "called in" for further scrutiny, but the council has decided not to refer it back.
Councillor Lesley Clarke said the plan was "robust, represents value for money and is capable of delivering what has been promised".
In awarding the contract to FCC Environment on 23 July, the council estimated it would save taxpayers about £150m over 30 years.
The company said the 300,000 tonne plant, which will divert household and commercial waste from landfill, would be built by 2015, creating 300 jobs during construction.
Concerns expressed
At the July cabinet meeting, the decision to award the contract was sent to the Overview and Scrutiny committee, after some councillors expressed concern that the decision-making process had been flawed.
Grounds for the call-in included inadequate consultation, a lack of openness and transparency and that it was outside the council's agreed policy and budget framework.
After hearing evidence from 11 witnesses, the committee approved the plan by a majority vote.
Chairman Mrs Clarke said: "Today's proceedings have been as detailed and comprehensive as any I have seen since taking up this role.
"The committee does not find that there is any reason to refer the decision back to cabinet or to full council."